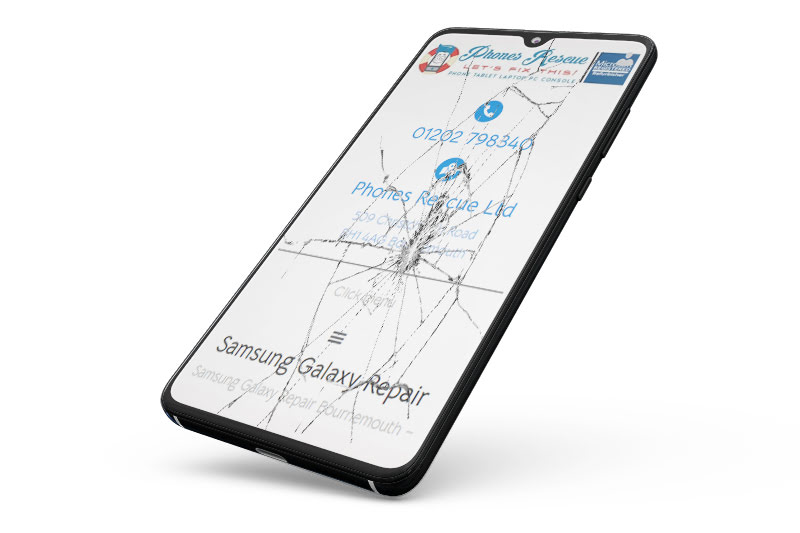 Samsung screen replacement – Bournemouth, Christchurch, Poole
The screen on your Samsung Galaxy is probably the most delicate element of your phone. If you are looking for a Samsung screen replacement shop, you don't have to search anymore. Samsung has the best Super AMOLED screens on the market, with great contrast, brightness and amazing colours. Unfortunately, even a small break in the glass often causes permanent damage to the display.
At Phones Rescue, we'll make your Samsung look new again.
Check below for screen replacement prices on Samsung phones.
Which Samsung Galaxy line do you have?
Do you have a Galaxy S? Galaxy A? Or maybe Galaxy Note? Select your Galaxy line below. Samsung makes several different lines of Galaxy phones. Galaxy means that the phone runs on the Android operating system, unlike, for example, the previously produced Samsung Wave phones that ran on the Bada OS operating system.
The S line is the top line of Samsung Galaxy phones. These phones always have the best displays, the fastest processors, the largest memory chips and the best cameras. If you don't like compromises then the S Series is for you.
Line A is a good compromise between a reasonable price and still great parameters. Phones in this series often have plastic housing frames instead of metal ones, but still, most models in this series are a great choice.
The Note series is such an S line with larger screens and styluses hidden in the housing. In 2022, Samsung added stylus pens to the latest S-series models, so it is not known if the Note series will continue.
The J series is an inexpensive, budget phone. They have average parameters, plastic housings and a shorter support time. No matter what Samsung model you have, if you need Samsung screen repair, you've come to the right place.
Samsung screen repair
Samsung screen replacement for Galaxy S line
Samsung Galaxy S21 Ultra 5G screen replacement
SM-G998B, SM-G998B/DS, SM-G998U, SM-G998U1, SM-G998W, SM-G998N, SM-G9980
Samsung Galaxy S21 Plus 5G screen replacement
SM-G996B, SM-G996B/DS, SM-G996U, SM-G996U1, SM-G996W, SM-G996N, SM-G9960
Samsung Galaxy S21 5G screen replacement
SM-G991B, SM-G991B/DS, SM-G991U, SM-G991U1, SM-G991W, SM-G991N, SM-G9910
Samsung Galaxy S21 screen replacement
SM-G990F, SM-G990F/DS
Samsung Galaxy S21 FE screen replacement
SM-G990B, SM-G990B/DS, SM-G990U, SM-G990U1
Samsung Galaxy S20 Ultra 5G screen replacement
SM-G988, SM-G988U, SM-G988U1, SM-G9880, SM-G988B/DS, SM-G988N, SM-G988B, SM-G988W
Samsung Galaxy S20 Ultra screen replacement
SM-G988B/DS
Samsung Galaxy S20 Plus 5G screen replacement
SM-G986, SM-G986F, SM-G986F/DS, SM-G986U, SM-G986U1, SM-G9860, SM-G986B/DS, SM-G986N, SM-G986B, SM-G986W
Samsung Galaxy S20 Plus screen replacement
SM-G985, SM-G985F, SM-G985F/DS
Samsung Galaxy S20 5G screen replacement
SM-G981, SM-G981F, SM-G981F/DS, SM-G981B/DS, SM-G981U, SM-G981U1, SM-G981N, SM-G981B, SM-G9810, SM-G981W, SC-51A
Samsung Galaxy S20 screen replacement
SM-G980, SM-G980F, SM-G980F/DS
Samsung Galaxy S20 FE 5G screen replacement
SM-G781B, SM-G781B/DS, SM-G781U, SM-G781U1, SM-G781W, SM-G7810, SM-G781N, SM-G781V
Samsung Galaxy S20 FE screen replacement
SM-G780F, SM-G780F/DSM, SM-G780G
Samsung Galaxy S10 Plus screen replacement
SM-G975F, SM-G975U, SM-G975W, SM-G975U1, SM-G9750, SM-G975N, SM-G975X
Samsung Galaxy S10 5G screen replacement
SM-G977U, SM-G977N, SM-G977B, SM-G9770, SM-G977P
Samsung Galaxy S10 screen replacement
SM-G973F, SM-G973U, SM-G973W, SM-G973U1, SM-G9730, SM-G973N, SM-G973X, SCV41
Samsung Galaxy S10 Lite screen replacement
SM-G770F, SM-G770F/DS, SM-G770F/DSM, SM-G770U1
Samsung Galaxy S10e screen replacement
SM-G970F, SM-G970U, SM-G970W, SM-G9700, SM-G970U1, SM-G970N
Samsung Galaxy S9 Plus screen replacement
SM-G965F, SM-G965U, SM-G965W, SM-G9650, SM-G965U1, SM-G965N, SCV39, SM-G965X, SC-03K
Samsung Galaxy S9 screen replacement
SM-G960F, SM-G960, SM-G960F, SM-G960U, SM-G960W, SM-G9600, SM-G960U1, SM-G960N, SCV38, SM-G960X, SC-02K
Samsung Galaxy S8 Plus screen replacement
SM-G955F, SM-G955FD, SM-G955W, SM-G955A, SM-G955P, SM-G955T, SM-G955V, SM-G955R4, SM-G955U, SM-G955S, SM-G955K, SM-G955L, SM-G955, SM-G955U1, SM-G955N, SM-G9550, SC-03J, G955F
Samsung Galaxy S8 screen replacement
SM-G950FD, SM-G950W, SM-G950S, SM-G950K, SM-G950L, SM-G9500, SM-G950A, SM-G950P, SM-G950T, SM-G950U, SM-G950V, SM-G950F, SM-G950U1, SM-G950N, SC-02J, SCV36, SM-G950, G950F
Samsung Galaxy S7 Edge screen replacement
SM-G935F, SM-G935FD, SM-G935W8, SM-G9350, SM-G935S, SC-02H, SM-G935K, SM-G935L, SM-G935R4, SCV33
Samsung Galaxy S7 screen replacement
SM-G930F, SM-G930A, SM-G930P, SM-G930V, SM-G930T, SM-G930R, SM-G930F, SM-G930FD, SM-G930W8, SM-G930S, SM-G930L, SM-G930K, SM-G9300
Samsung Galaxy S6 Edge screen replacement
SM-G9250, SM-G925A, SM-G925F, SM-G925FQ, SM-G925I, SM-G925K, SM-G925L, SM-G925S, SM-G925T, SC-04G, 404SC, SM-G925D
Samsung Galaxy S6 screen replacement
SM-G9200, SM-G9208, SM-G9208/SS, SM-G9209, SM-G920A, SM-G920F, SM-G920FD, SM-G920I, SM-G920S, SM-G920T, SM-G920K, SC-05G, SM-G920L, SM-G920
---

Samsung screen repair for Galaxy A line
Samsung Galaxy A90 5G screen repair
SM-A908B, SM-A908N, SM-A9080
Samsung Galaxy A80 screen repair
SM-A805F, SM-A8050, SM-A805X, SM-A805N
Samsung Galaxy A72 4G screen repair
SM-A725F, SM-A725F/DS, SM-A725M, SM-A725M/DS
Samsung Galaxy A71 screen repair
SM-A715F, SM-A715F/DS, SM-A715F/DSN, SM-A715F/DSM, SM-A715W, SM-A715X
Samsung Galaxy A70 screen repair
SM-A705F, SM-A705FN, SM-A705GM, SM-A705MN, SM-A7050, SM-A705W, SM-A705YN, SM-A705X, SM-A705U
Samsung Galaxy A52 5G screen repair
SM-A526B, SM-A526B/DS, SM-A5260, SM-A526W, SM-A526U, SM-A526U1
Samsung Galaxy A52s 5G screen repair
SM-A528B, SM-A528B/DS
Samsung Galaxy A51 5G screen repair
SM-A516F, SM-A516F/DSN, SM-A516N, SM-A516B/DS, SM-A516B, SM-A516U, SC-54A
Samsung Galaxy A51 screen repair
SM-A515F, SM-A515F/DSN, SM-A515F/DS, SM-A515F/DST, SM-A515F/DSM, SM-A515F/N, SM-A515U, SM-A515U1, SM-A515W, SM-A515X, SM-S515DL
Samsung Galaxy A50 screen repair
SM-A505F, SM-A505FN, SM-A505GN, SM-A505G, SM-A505FM, SM-A505YN, SM-A505W, SM-A505X, SM-A505U, SM-A505GT, SM-A505U1, SM-A505G, SM-A505N, SM-S506DL
Samsung Galaxy A42 5G screen repair
SM-A426B, SM-A426B/DS, SM-A4260, SM-A426U, SM-A426U1
Samsung Galaxy A41 screen repair
SM-A415F/DSN, SM-A415F/DSM, SM-A415F, SM-A415F/DS
Samsung Galaxy A40 screen repair
SM-A405F, SM-A405FN, SM-A405FM, SM-A405S
Samsung Galaxy A32 5G screen repair
SM-A326B, SM-A326B/DS, SM-A326BR/DS, SM-A326BR, SM-A326U, SM-A326W
Samsung Galaxy A22 5G screen repair
SM-A226B, SM-A226B/DS, SM-A226B/DSN
Samsung Galaxy A21s screen repair
SM-A217F, SM-A217F/DS, SM-A217F/DSN, SM-A217M, SM-A217M/DS, SM-A217N
Samsung Galaxy A20e screen repair
SM-A202F, SM-A202K
Samsung Galaxy A12 screen repair
SM-A125F/DSN, SM-A125F/DS, SM-A125F, SM-A125M, SM-A125U, SM-A125U1
Samsung Galaxy A10 screen repair
SM-A105F, SM-A105G, SM-A105M, SM-A105FN
Samsung Galaxy A9 screen repair
SM-A920F, SM-A9200, SM-A920N
Samsung Galaxy A8 screen repair
SM-A8000, SM-A800F
Samsung Galaxy A7 (2018) screen repair
SM-A750F, SM-A750FN, SM-A750G, SM-A750GN, SM-A750C, SM-A750X, SM-A750N
Samsung Galaxy A6 Plus screen repair
SM-A605FN, SM-A605G, SM-A605F, SM-A605GN, SM-A6050, SM-A605K, SM-A605X
Samsung Galaxy A6 screen repair
SM-A600F, SM-A600FN, SM-A600A, SM-A600G, SM-A600GN, SM-A600P, SM-A600N, SM-A600T1, SM-A600AZ, SM-A600T, SM-A600U
Samsung Galaxy A5 (2017) screen repair
SM-A520F, SM-A520F, SM-A520K, SM-A520L, SM-A520S, SM-A520W
Samsung Galaxy A3 (2017) screen repair
SM-A320F, SM-A320Y, SM-A320FL
Samsung Galaxy A03s screen repair
SM-A037F, SM-A037F/DS, SM-A037M, SM-A037G
Samsung Galaxy A02s screen repair
SM-A025F, SM-A025F/DS, SM-A025G, SM-A025G/DS, SM-A025M, SM-A025M/DS, SM-A025U, SM-A025V, SM-A025A
---
Samsung screen replacement for Galaxy Note line
Samsung Galaxy Note 20 Ultra 5G screen replacement
SM-N986B, SM-N986B/DS, SM-N986U, SM-N986U1, SM-N986W, SM-N9860, SM-N986N
Samsung Galaxy Note 20 5G screen replacement
SM-N981B, SM-N981B/DS, SM-N981U, SM-N981U1, SM-N981W, SM-N9810, SM-N981N
Samsung Galaxy Note 20 4G screen replacement
SM-N980F, SM-N980F/DS
Samsung Galaxy Note 10 Plus 5G screen replacement
SM-N976F, SM-N976U, SM-N976, SM-N976B, SM-N976N, SM-N976V, SM-N9760, SM-N976Q
Samsung Galaxy Note 10 Lite screen replacement
SM-N770F, SM-N770F/DS, SM-N770F/DSM
Samsung Galaxy Note 10 screen replacement
SM-N970F, SM-N970U, SM-N970U1, SM-N9700, SM-N970W, SM-N9700, SM-N970N, SM-N970X
Samsung Galaxy Note 9 screen replacement
SM-N960F, SM-N9600, SM-N960F, SM-N960U, SM-N960U1, SM-N960N, SM-N960W, SM-N960X, SCV40
Samsung Galaxy Note 8 screen replacement
SM-N950F, SM-N950U, SM-N9500, SM-N950U1, SM-N950N, SM-N950W, SC-01K, SM-N950FD
---
Samsung screen replacement for Galaxy J line
Samsung Galaxy J6 Plus screen replacement
SM-J610F, SM-J610F, SM-J610G, SM-J610FN
Samsung Galaxy J6 screen replacement
SM-J600G, SM-J600F, SM-J600G, SM-J600FN, SM-J600GF, SM-J600GT, SM-J600L, SM-J600N
Samsung Galaxy J5 (2017) screen replacement
SM-J530F, SM-J530Y, SM-J530FM, SM-J530G, SM-J530YM, SM-J530L, SM-J530S, SM-J530K, SM-J530GM
Samsung Galaxy J4 Plus screen replacement
SM-J415F, SM-J415FN, SM-J415G, SM-J415GN, SM-J415N
Samsung Galaxy J3 (2017) screen replacement
SM-J330F, J330F, J330G, SM-J330G, SM-J330FN, SM-J3308, SM-J327F, SM-S337TL, SM-J3300, SM-J330L, SM-J327U, SM-J330N